Before heading towards the airport for my next traveling or a long-time journey, the question of how many packing cubes do I need actually grabs my mind often. And I know the same thing happens with many of you. The thing is, you don't know exactly how many packing cubes you will require to completely backpack your stuff? What their sizes must be? And what kind of packing cubes are worth considering?
Well, don't worry because learning from hundreds of real-life traveling experiences, interviewing many passengers and with some testing on size measuring techniques, I have brought the right solution for you. In this post, you will find answers to all the queries regarding packing your stuff in the packing cubes and the quantity of these cubes you will need on your next journey.
Related: Do Packing Cubes Really Save Space?
Therefore, sit tight, and let's start exploring today's particular type of topic. and in the end, you will be ready to head towards your destination without worrying about packing your stuff.
How Many Packing Cubes Do I Need?
Before you go for the quantity, you should know a little more about the packing cubes and their functionality. As a matter of fact, you already have a general idea about for what purpose we use these packing cubes.
But for my readers who are here for the very first time and looking for something like packing cubes, let me tell you about them in a little brief detail.
Packing cubes are small zippered organizations that are mostly available in rectangular or square shapes. They are made with soft quality materials and some kind of net clothes that are considered best for keeping your fabricated stuff.
They come in different sizes such as small, medium, and large depending on your capacity and needs to store your clothes. Plus, they are sold as sets. People usually use these packing cubes for organizing their clothes and stuff more accurately inside a backpack or a briefcase.
You can use them for all types of gear such as a large one that could suit your clothes, a medium one for your other undergarment accessories, and a small one for your electronic gadgets. They are widely used these days and people have no complaints while packing their stuff inside the packing cubes. However, you cannot compress them more than their compression limits.
Related: What Luggage Do Pilots Use? Pilot Luggage Guide
Why do you need to use packing cubes?
Well, it totally depends on you and that nature you have got. I mean, suppose if you have the stinky and fresh clothes both with you on your trip. What if you have to find something really needed and important from your luggage while being in the air. And the luggage is so tightly packed that you cannot get it. Another reason could also be organizing your stuff more properly and accurately.
In simple words, you need a backpack with lots of pockets as well as added comfort and safety. Because you are going to need each of these things on your trip and you can't miss anything on purpose.
Therefore, the best-provided solution of this era is these packing cubes. Having more than one  packing cubes for each type of stuff will make you pack your things easily and more accurately. You can pack those stinky clothes in one cube and the fresh ones in another cube separate from each other so that the fresh clothes must stay fresh. Moreover, you can also organize your stuff in the best way you like too.
However, they are not good with saving space and providing you more areas inside your backpack to keep other things. The more you will have, the more you will have to carry with you.
How many packing cubes do you need on your next journey?
It totally depends on you what quantity of packing cubes you need on your journey. But according to my research and with a personal recommendation, I would ask you to have at least 3 to 4 packing cubes with you whenever you depart from your house.
However, the need and quantity of packing cubes will vary depending on how many days you stay out of your house, the things you wanna bring with you, and how you pack them. It also depends on what type of luggage you are using on your trip.
Considering this thing, it's a human psyche. I mean definitely you will ask and look for more packing cubes if you will have to bring more stuff with you. Otherwise, having one or two will do the job for you. So, see, it is very simple for you to decide how many packing cubes you will need on your next journey.
The stuff you can keep inside a particular type of packing cube:
Before you actually go to know how many cubes do you need for your particular type of category or preference, you should know what you can pack inside a packing cube. Things that you can keep vary from size to size of the packing cube. Therefore, let's specify each one and tell you how you can organize stuff if you have a large, medium, or small-sized packing cube.
The Extra-large sized packing cubes—Inside this larger one, you can easily pack your stuff including your jackets, coats, jeans, dresses, hoodies, formal coats, even raincoats, and overcoats. It also gives you space for keeping your shirts and other clothing items on the go.
The Large-sized packing cubes—This is also not bad but not as spacious as the extra-large one. Usually, people use this type of packing cubes for packing stuff. It provides you space for organizing your shirts, trousers, shirts, shorts, pajamas, and other stuff of this kind. I have used this one and it allowed me to pack up 5 roll shirts, 3 pairs of jeans, and some shorts.
The medium-sized packing cubes—These cubes are recommended for keeping your undergarments stuff. This means you can pack your socks, gloves, underwear, hats, and scarves, etc. You can have a fresh piece of underwear for each day by having this packing cube alongside you.
The small-sized packing cubes—This last category of the cubes provides you an easy space for keeping handkerchiefs, your baby stuff if you are a woman or with a family, your own bras, some tech gadgets such as a camera, etc. This means, it is only for those who want a perfect organization of their stuff but they do not bring much with them.
How many packing cubes do you need depending on your age?
At first, it depends on your age and the things that you will need on your journey accordingly. Like for a child, it will be different. For an adult, it will be different and for a woman, it will also be different. So, let's have a look at how many packing cubes you can have depending on your gender's needs. And what you can pack in each creating a smart and standard organization.
Both men and women—One large, one medium, and one small packing cube. Use the following ways to pack your stuff in these packing cubes.
The large one—Pack your clothes, shoes and other stuff of this kind. Your formal suits, overcoat, jackets, and raincoat.
The medium one—Pack your socks, gloves, small shorts, and trousers, etc.
The small one—This is basically assigned for bringing more accessories related to your tech gadgets. You can pack your DSLR camera, umbrella, laptop charger, and other small stuff of this kind.
Youngsters—One medium and one small packing cube. The packing is given as:
Medium packing cube—Best for packing clothing stuff and other short accessories like socks and gloves.
Small packing cube—Dedicated for tech stuff.
Children—Only one medium packing cube depending on their stuff like pajamas, shirts, socks, and other things that you should carry.
The size may vary from brand to brand and it is also very important to consider. Moreover, the organization and packing are best for those who are on a short trip or prefer to do laundry once a week in case of a long trip.
How many packing cubes do you need depending on the type of your luggage?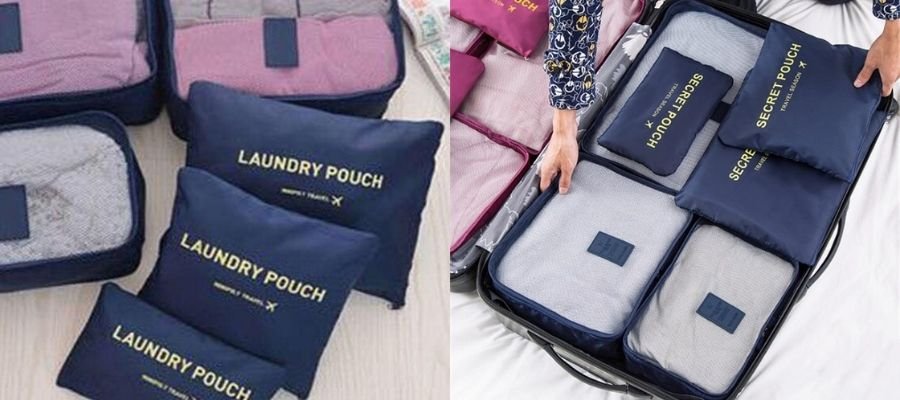 Here is another thing to consider before getting or purchasing packing cubes for yourself. It is the type of luggage you are going to use on your next trip. This is because it will vary with different types of luggage and their sizes.
Like if you are having a larger backpack, you must have smaller packing cubes for that. For the suitcase that you hold on your one side, it has two portions or parts. You must make sure that the cubes must fit into it.
So, you need to get the exact quantity or number of cubes for yourself that could easily fit inside your particular type of luggage. Therefore, let's have a look at the quantity of packing cubes with different types of luggage bags or packs. And what you can easily organize into each of them.
For carry-on luggage—A carry-on luggage that comes in a regular size usually can keep up to 3 packing cubes. It will also save you some space for keeping snacks, souvenirs, or toiletries, etc.
For checked luggage—A checked luggage is the relatively larger one. You can pack or include more packing cubes inside this one. It usually can keep up to 5 packing cubes for having more stuff organized inside it. It is recommended for people who love to travel abroad and want to have more stuff with them.
For Regular backpacks—A backpack is basically designed for keeping your tech stuff like your laptop, tablets, I pad, and other gadgets of this kind. However, in most types of carry-on backpacks, you can contain up to 2 medium-sized packing cubes easily.
Check out the best packing cubes:
Amazon Basics 4 Piece Packing Travel Organizer Cubes Set
Veken 6 Set Packing Cubes
BAGAIL 6 Set Packing Cubes
Are packing cubes worth it?
Yes, packing cubes are really worth having and getting if you want to organize your stuff more accurately and professionally while traveling from one place to another. Or, it is the best thing to consider for those who love to be on long trips, hiking tours, mountain visiting, and go to other faraway places.
There are countless advantages you will have while keeping the packing cubes with yourself. Let's have a look at some of them.
Availability—Packing cubes are available in different shapes and sizes. So, they allow you to pack your needed stuff accordingly. Moreover, their different sizes availability makes them easily fit able into different types and sizes of backpacks, suitcases, luggage bags, or daypacks. Therefore, it is easy for you to get a suitable packing cube for yourself.
Larger organization—Packing cubes are handier and easier to pack your clothes and other stuff you want to have while being on your outhouse journeys. Choose your desired one and pack your stuff. You can place them in a well-defined way inside your backpack or bag, like one at the top, the other in the center, and the last one at the bottom.
Keep your clothes neat and wrinkles-free—Your clothes while being inside the packing cubes stay cleaned and wrinkles-free. Because they are packed well and they are at their best place. The fresh ones are aside and the stinky ones are on the other side.
Not that costly—Packing cubes are a way cheaper thing you can purchase. You don't have to spend much money on them. They are very costly and easily available.
The easy finding of things—What if you need your socks to wear if you feel cold on the way? Will you prefer to search the whole luggage or would like to look into only a dedicated portion? Well, that's the place where packing cubes are worth the most.
You just have to find your small or medium-sized packing cube that contains your small stuff like socks or gloves. From there, you can pick up a pair without disturbing the whole luggage.


Frequently Asked Questions
From where to get the best quality packing cubes?
For this, you can visit any famous online store such as Amazon, Alibaba, or whatever you prefer the best. Either you can visit your nearby luggage bag selling store. You can buy your favorite and needed packing cubes from there. Just make sure that you get something made with good quality material and it must be worth your money.
How to pack clothes inside a packing cube?
There are two ways through which you can pack your clothes inside a packing cube. Either you can fold them or roll them, the way you like the most. However, I would recommend you pack your clothes by rolling them. Do not just throw them anyway. But be a good human being and pack them nicely inside a packing cube. This will also save space for having more stuff.
Do I really need packing cubes?
It depends on you. As I said before because it is all on you as to whether you consider having packing cubes best for you or not. But I would recommend you to have them inside your luggage or carry-on bag. They will let you organize your stuff in a well-oriented manner and save space for you. Moreover, you can keep your clothes safe, stinky, and wrinkles-free by having them inside the packing cubes.
Final Thoughts
I hope that after reading the information provided here, you are completely aware of the query of how many packing cubes do I need? There are no hard and fast rules for deciding the number of packing cubes you should have. You can easily decide it depending on your needs and the stuff you want to take on your journey.
Moreover, knowing the exact size and fitting for a packing cube inside your particular type of backpack is also very important.
Hence, this was all for today. Take much care of yourself and stay tuned for more latest queries and updates. May the blessings be on your way. Have a good day ahead.