Hi gorgeous people, I hope that you are doing great. I welcome you to this backpack traveling guide in 2023. Today, we'll learn how to pack a backpack for traveling with all of your important essentials and we'll look at some important things that you should bring in your backpack for different traveling occasions.
But let me ask a question from you. When do you use your backpack? Of course, when you plan for a long journey, a trip to mountains, or hiking, or somewhere too far from home. That's why you should always have proper knowledge of the things to care about while packing and how to manage your weight in your backpack.
Therefore, gear up your tools, bring your backpack, and let's find out how to pack a backpack for your next trip. Because maybe, for the last time the experience was not good or you are going on a journey for the very first time in your life. However, whatever the situation is, we'll help each other in solving it. That's why let's begin this journey and make things worth considering.
But before actually packing it, just let me tell you about some golden rules or say some guidelines on what type of bag you should get, what to consider on traveling, and then, we'll look out how to organize the things into it.
Get the right backpack for yourself
Before packing it with all of your essentials, having a right-back is very necessary. Because only through this, you will be able to have a better organization. Now, since you've considered this, you should look for a backpack with lots of pockets, compartments, organization, and space. This will enable you to pack more things in a single unit.
Also, look for some straps inside the main compartments as these will help you in keeping things secure. More pockets will let you keep more and you can even pack your clothes, bras, mobile, and camera inside it. Therefore, you should have maximum compartments and pockets inside your backpack. However, some of the most required things that you need inside your backpack are mentioned here.
There must be separate and dedicated laptop compartments.
The back panel must be padded and soft for having on-the-way comfort.
Pockets must be with zippers for securing things.
Side pockets for keeping bottles of water.
Strong and comfortable padded straps.
A small front pocket on its face for keeping tablets and easy grabbing of your most required things etc.
Pocket for keeping your sunglasses.
The belt for attaching it with your hip to manage the load.
Water protection should be durable as well as made of some sturdy material.
In simple words, you need a backpack with lots of pockets as well as added comfort and safety. Because you are going to need each of these things on your trip and you can't miss anything on purpose.
Manage load:
The next goal is to keep the load managed and the backpack close to your body for safe and comfortable travels. That will be perfect, as this won't hurt your shoulders and will keep the things organized. Moreover, you should also be careful with the durability, mobility, and portability of that backpack that you are going to get or the one that you already have. Because nobody wants to waste a bunch of bucks on a low-quality backpack, pretty right isn't it?
So, the goal must be to add comfort and every needed thing in your life while you are outside and exploring the world as a tourist.
A Guide on How to pack a backpack for traveling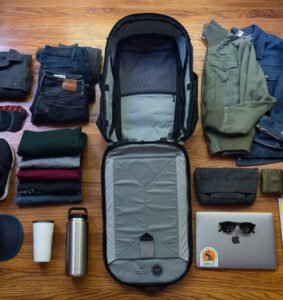 Now, let's come to today's main topic of this guide and find out how you can efficiently pack your backpack for your next travel or hiking plan. The easy to consider thing is to put the right things in the right space inside your travel backpack. Moreover, even if you go by air, you should be aware of all the TSA rules and regulations regarding packing your stuff.
Now, since you've bought a travel backpack with the same specs and organizations that I've told you, it is time to pack your clothes, electronic stuff, and other gadgets in your backpack.
The Laptop:
Begin with the laptop and put it into the dedicated laptop compartment. Look for the main compartments, and gather your clothes. You should pack your clothes into the main compartment by rolling them. they shouldn't be thrown directly into the backpack. Organize them so that you'd be able to save more space.
The water bottles and other small accessories:
Your water bottles will go to the dedicated water bottles pocket and put your most needed things like your important books, snacks for hunger, tablet, kindle, your sunglasses, camera, other things like your cap, and handkerchief, etc. into the front zippered pocket. This will keep everything organized, easy grabbing, and always accessible.
Your passport or IDs:
You'd have some small pockets on the right side, left side, or on the front side of your backpack. These can be used to keep things that are mostly needed for TSA checking. These things include plane tickets, a passport, your ID, or your mobile into those small zippered pockets.
Moreover, your most important things like your house keys, travel itinerary and other small stuff will go in the front pocket of your backpack or into the small inner pocket.
How to organize things inside the backpack to manage load
Although you can pack anything inside your backpack, managing load is also very important. If you go on long journeys, your backpack should be managed in such a way that it won't be belonging, creating pain for your shoulders, or either way it shouldn't be comfortable. Because the only thing you will get through this is fatigue and your luggage will be worrisome. Therefore, putting the right things, at the right place in the right method or way is very important.
At the bottom side:
While packing your backpack, the lightweight items will go at the bottom of the backpack. Do organize the things, like if you backpacking your small stuff including bras, underwear, shirts, socks, and other stuff of this kind, it should be at the same place and mostly at the bottom of the backpack so that when you need to access your items, this stuff won't get disturbed or lost.
At the middle side:
Put the heaviest items in the middle of the backpack near your spine. However, if you are bringing some extremely heavy items, please be a good boy and leave them at your house. Because this will save your back from extra load and will give relief to your shoulders.
At the top side:
Moreover, when it comes to your most accessible items or some medium-weight items, these should be placed at the top of the backpack. So that you'd easily be able to reach them and everything must stay organized. The laptop will be in your backpack as a standing unit facing your back and it will stay safe there.
Some other small items:
Some people bring miscellaneous items including scissors, band-aids, razors, or extra glasses with them. When you backpack your stuff and you have these items, don't throw them as a tossing piece anywhere inside your backpack so that they won't be able to be found again. Instead of this, gather this kind of stuff and put them collectively in the middle of your backpack.
How to pack clothes in a backpack
What people do is while packing their clothes inside their backpacks, they just fold them and put them anywhere they like inside the backpack. But remember? You are a good boy and you are not gonna do this, right? Well, that's sweet. So, you need to follow another method because this will save your time and energy as well as much space inside your backpack for packing some other stuff.
Packing your clothes using packing cubes:
Use some packing cubes for packing your clothes into them and then into the backpack. You can buy some packing cubes from any local store or even online. These cubes compress your clothes and save much space. However, you can have more than one packing cube inside your backpack for organizing stuff in a good manner.
Like take a packing cube that must be your medium-sized packing cube and put things like underwear, bras, socks, shorts, sports bra, swimsuit, and gloves (if needed) into it.
Take the other packing cube that will be your packing cube larger in size and put things like your T-shirts, Tank top, jeans, trousers, and jackets, etc. All this stuff may vary according to the different situations and may be needed during different kinds of journeys in different types of seasons.
Now take these packing cubes and put them at the bottom of your luggage bag or traveling backpack. This will be an easier way to save space and pack your clothes inside your backpack. But remember to roll your clothes even if you are packing them into the packing cubes.
What to pack inside the Hip Belt's Zipper pocket?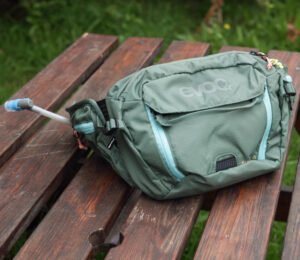 Well, if you will buy a hip belt for attaching or keeping your backpack close to your body and with managed load, you will get an extra pocket for keeping some important and easily accessible things inside it. Like what can you really pack inside this pocket? Let me tell you about it.
You can have your mobile phone inside this pocket, a pocket camera, your passport, your plane tickets, some candies to fresh your mood, a USB, your study glasses and every small thing you prefer. You can have any of these or all the items inside your backpack. So, by this, believe me, the access to your most needed things will be easier.


Related Frequently Asked Questions
How to pack a backpack for hiking?
It doesn't matter wherever you go, either if it's hiking or a small tour of another country, you should always pack your backpack in an organized and professional way to keep the load balanced and things at their exact place. Because if you do this, you'll have less fatigue, shoulder pain, and more space for keeping more things inside your backpack on your journey.
What are the most essential things to pack for traveling?
This list of some essential things to pack for traveling never ends but still, you will have to figure out how to bring some most important things that you require on your journey. These may include your laptop, your Ipad, mobile phone, camera, chargers, USBs, some clothes, socks, bras, shoes, some edibles, and whatever you prefer. But these things should be organized and well packed inside your backpack.
What type of backpack should I buy and from where should I get it for traveling?
You should get a durable, reliable, qualitative, waterproof and backpack with lots of pockets and compartments. Because this will provide you more space for having more things inside it and you'd easily be able to organize everything pretty well. However, if you wanna know where to get it, you can have it from any online store like amazon and for this, read our article for the best bags with lots of pockets, as this will let you make the right choice. You can also take it from any local bag store or a branded one nearby your town.
Final saying
Putting it into short words, I hope that now you are completely aware of how to pack a backpack for traveling after reading this guide. Just get a good bag with a lot of pockets and compartments and then organize your stuff. It is so simple and easy to do.
However, this was all for today. See you very soon on another great topic. Until then take care of yourself and let me know if there is anything you want to add or ask. Have a nice day.
Cheers.