Are you planning to go hiking next week? Or make up your mind to go for an adventure? Well, whatever it is, you don't wanna forget to bring your sleeping bag, right? Do you? Sure, you don't, but the question is how to bring it? Because you've already filled up your regular backpack with other gears that are much necessary on the journey.
So, should you skip your sleeping bag or still bring it? Of course, you should bring it as there is no way of having a peaceful sleep without your sleeping bag on the mountain top. Therefore, today, I will teach you how to attach sleeping bag to regular backpack. What? Did you hear the attachment? Is that possible?
The answer is a big yes, and I do know that you are in search of something similar. This is only for those who don't have enough space in their backpacks to put sleeping bags in, and yes, it is a thing because a sleeping bag takes a lot of space in your regular backpack, which means it shouldn't be there.
So, gear up your tools and get yourself ready for the hiking, because you are gonna bring your sleeping bag even without backpacking it in your regular backpack. I will tell you different ways of bringing your sleeping bag by attaching it to your regular backpack. Because I have done this in my hiking experiences and that's why I am here to share all about this. So, let's worth the time and dig into this comprehensive piece of information.
How to attach sleeping bag to regular backpack?
Before you go for the actual attaching process, here are some things that you should keep in your mind.
First of all, don't think about attaching your sleeping bag to your backpack on its top. The best place for this is its bottom (if there is no fear of it getting wet). Because it will keep the weight balanced, save the bag from getting wet in case of rain and also save your backpack from stretches while passing through the bushy area or hiking through a place with jagged risks. However, often, it totally depends on your choice as to whether you see fit attaching it at the top of your backpack or the bottom.
The best place is to store it in your regular backpack if you have enough space. Otherwise attaching will be the only solution.
Roll up your sleeping bag as tight as possible and put it into a waterproof or plastic bag. This will give it extra protection from getting wet or other dangers.
Different ways of attaching a sleeping bag to a regular backpack:
Once you have done with the rolling and packing of your sleeping backpack in a separate plastic bag process, there are 5 ways that you can apply it very easily for attaching it to your regular backpack. In this case, let's have a look at each of these methods one by one.
Attaching with loops and straps:
This method includes using loops and straps for attaching your sleeping bag to your regular backpack. This may not be the best method for everyone, but in most of the cases, it will do the job for you. For this,
Make sure that you have a backpack with loops and a sleeping bag with extra straps.
But not all of the sleeping bags will have these straps. So, if your specific one hasn't got these, this method is not for you.
In this process, all you do is slide the straps of your sleeping bag into the loops of your regular backpack which are given on its backside and you are good to go. Because your sleeping bag and backpack will be attached.
For assuring complete security, please fasten your sleeping bag tightly. Otherwise, it might get a swing or fall somewhere without your knowledge. Also, don't keep the loops too low.
Why not build some straps?
Well, as I have said above, if your regular backpack has loops and your sleeping bag doesn't have any straps. You can add them quite easily. Here is how you do so.
Take 4 pieces of twine or rope and some buckles. Using the first two pieces of twine or rope, you need to wrap your sleeping bag with them. Make sure they are nicely tight and strong enough to hold.
The other two ropes will help you attach your bag to your backpack. And guess what? Hurry you just did it. All in, you've to make sure that it is tight and strong and you are all set to go for the next movement.
Attaching with compression buckles:
The second great and well-admired method is using compression buckles of your regular backpack for attaching your sleeping bag with it. This may be the best method as it will not let your sleeping bag swing or fall.
Compression buckles are usually added to the backpacks for saving things if you've overpacked your backpack. But being a smart and experienced camper or hiker, you don't wanna have an over packed backpack with yourself because it will give you only strain and fatigue. Do you?
So, these compression buckles can be used for keeping a sleeping bag in them. For this,
Lose your backpack's compression buckles, slide your rolled sleeping bag into these and close the buckles. This is pretty easy to have a sleeping bag attached to your regular backpack. And the good news is, there is hardly any backpack out there that might be without compression buckles.
Attaching with the Tie points given at the bottom of your backpack:
If the above method doesn't work, here you can look at another one. Some backpacks have Tie points at their bottoms just like they have compression buckles. Well, if you find these in your backpack, here is how you gonna attach your sleeping bag with it.
Lose these tie ends a little, place or put your sleeping bag into them and close them.
Make sure they are fastened tightly so that there will be no swinging or fear of their falling.
Attaching it with a Lid Tie:
The last way of attaching your sleeping bag to your regular backpack is using the bottom tighten strip to completely keep your sleeping bag compressed. For this,
Take your bag and put it into the strip. Here you can compress it.
But there will be an open space at the top side which could let rainwater in and your bag might get wet. So, I think this will not be a good idea.
However, it can still be useful, but how? Well, you have to put your sleeping bag on the top of your backpack, take the compression strap you'd be using for the lid, and tie it tightly around the backpack for holding the sleeping bag safely at the topside.
Even after this, it has a downside which says that you are not really holding down the rest of your bag.
What is the best way of attaching a sleeping bag to a regular backpack?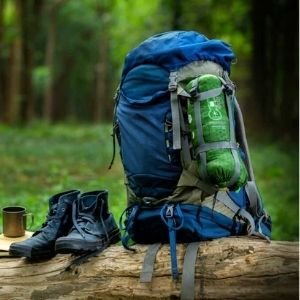 So, if you'd have to choose the best way of attaching your sleeping bag to your regular backpack from the above-described methods, I would ask you to attach it by using compression buckles. I have been on many hikes and this is the best method that I always apply.
You can find these compression buckles on the right, left, top, or bottom side of your backpack. If you don't want to have an uneven weight distribution, consider placing it at the bottom or top of your backpack. Otherwise, attaching it alongside the backpack will also be much helpful. Many hikers and campers do this.
Why would somebody go attached sleeping back outside the backpack?
Well, this is basically the first question you should ask yourself. However, if you don't know the answer, don't worry because there are many reasons for this. First, you can't keep your sleeping bag in your backpack as there will be no space for this. You'd always need a sleeping bag for getting some sleep so that you may plan for the next day without any stress and fatigue. Therefore, leaving it at the house is not a good thing to do.


Final saying
I know that you've completely learned how to attach sleeping bag to regular backpack after reading this article. The process is very simple and it doesn't require you much to do. All you have to do is to choose the best way and go for it. Well, it seems like I am gonna end this here. If you have any more queries or want to add something, please feel free to reach out through the comments.
Thanks for the attention and will see you soon with another great idea or a complete guide. Until then, take care of yourself, explore the world through your thrilling adventures and stay blessed.
Cheers.