Are you interested in how to pack a suitcase rolling clothes? There are many occasions when we go out of the town. This is quite good especially if we are looking for holidays. This was also meant for people who travel and are always on the go

In this time and age, nobody likes to carry a number of suitcases with them while travelling to a different city for a short span. People, most precisely, travel freaks like to carry a minimal weight with them. Just a Suitcase, backpack or Satchel, and off they go!
How To Pack a Suitcase Rolling Clothes?
Folding clothes — a big no-no!
If you try and bank on the traditional method of packing a suitcase, which is folding the clothes, you might be requiring a vast space for your clothes to be settled. Breaking myths and flying in the face of old-school trends should be topping our agenda-list, shouldn't it be? Badass grin!
Cut to the chase, if you defy the old methods of packing a suitcase, you would not have to carry tons of load and you would be able to move hither and thither free and unrestrained. Folding a cloth can be a heck of an issue, you might have to let go of many of your favorite denims and tee's solely because of lack of space in your suitcase.
Don't sweat over ironed clothes — they can be coped with!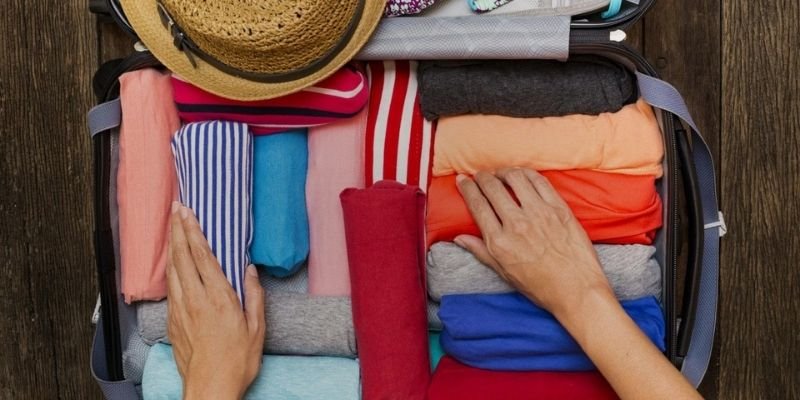 As we try and draw a comparison between folding and rolling, we are able to find a few plus points of traditional way of packing. Without a shadow of doubt, there are few advantages of folding clothes that can't be overlooked, but can we not find a substitute for them? Of course, we can. A lot of people are curious that their ironed clothes would get all messed up if they roll them up in a suitcase. Despite that, rolling is a good alternative to rely on.
Here's why!
For those who believe, their clothes should not get any ridges or creases, they are recommended to put their ironed clothes in a plastic drycleaner's bag before placing them in a suitcase. By doing that, you are making sure that your clothes look ready-to-wear just as you take them out of your suitcase. Therefore, it is absolutely incumbent on us to utilize a plastic dry cleaner's bag with respect to this matter.
You don't even need to frown when it comes to synthetic fabrics because they barely get furrowed. These clothes do not need re-ironing once you unroll them. They would look inch-perfect after being taken out of the suitcase. So, while planning what to take and what not to take with you, tick mark all the synthetic fabrics! You better be making them top your list!
A Utopian guide to roll the clothes!
You gotta roll your clothes in such a way that they may fit every cranny and nook of your suitcase. Place the garment face-down on the floor, and start the process. Be very concise and leave no space inside while making one roll after the other. Move your hand all over the cloth to smooth-en it leaving no room for ridges and creases.
Turn the sleeves toward the centre.
Tighten and roll the cloth simultaneously.
Don't let your hand have a lose hold of the garment while you're rolling. In a contrary case, the cloth would not befit a tiny space and your purpose of preferring rolling over folding would eventually die. After getting it tightened and rolled, use a thick rubber band to tie it together
Just a thought,
if you have a bunch of
t-shirts
to pile up in a suitcase, drop that option. Roll them, put them in a plastic bag/container —
all of them
— and then let them sit in your suitcase. It gives us a clue that we may be able to save some more space with this trick.
Pants or trousers or denim's
are most likely to occupy larger space as compared to other sort of garments. A thick material is usually used to bind and hem these very clothes, so an extraordinary amount of force would be required to roll them tight. Don't think to give in. Just try more than once while attempting to roll such clothes and
you may turn out to be a winner in the end.
Make the two halves of the pant meet.
Lay one half over the other and then roll keeping a tight hand on it. 
If you are stacking a dress longer in size, try to do it in thirds or fourths. For instance, if you are rolling a broomstick skirt, make it half its original size by merely giving it a fold. Afterwards, begin to roll and keep rolling until it's done.
Don't forget: The longer the size, the greater the effort!
You will have to keep budging your hand all over the skirt so that it may not catch any wrinkles or creases. Don't choose an uneven surface to lay your broomstick skirt on, because you would later find it as a pebble in your shoe. It will hinder you in the midst of the stacking process which you would surely shudder at. So, better to be safe than to be sorry!
On a side note!
Try to avoid fabrics that are more susceptible to creases and crumples, like the linen. If it is evitable, try your best to neglect such kind of clothes. If you are persistent to carry a small suitcase, drop the idea of flaunting a linen at any of the upcoming occasions that is destined to take place in the city you are travelling to. 
Silk is also prone to creases and wrinkles. Therefore, give a wide berth to silk-made dresses and scarves as well. Do not squander your time ironing and re-ironing them. If there is a better fabric in your wardrobe to wear, then it surely is a better choice vis-a-vis any of the silk clothes.
From our side, you are being suggested to steer clear of all such fabrics that are likely to be creased. The rest is upon you and your choice! 
If you are planning to travel for two weeks, don't miss our guide about opting a perfect suitcase size.
Related article: