Travelling is an undying passion for all the nature-loving comrades. They feel like, it's part and parcel of them and they can't separate themselves from it. Travelling from country to country is always a roller coaster ride but selecting a suitcase is sometimes a conundrum which needs a decent amount of contemplation.
Many travelers keep switching their luggage bags until they bump into a quintessential one. There are various types and sizes and shapes and colors in the market for almost everything that consumers start scratching their heads in perplexity. However, we are here to sort things out for all the current and to-be travel enthusiasts.

One of the most complex queries extended by travel freaks is, what sort of exterior should they be relying on while buying a suitcase? Hard shell and soft shell suitcases have their own list of merits and demerits, and we're going to unravel it before you. Just have a wide look!
Hard Shell Luggage And Soft Shell Luggage For International Travel
Carrying electronic gadgets
Who on earth claims to be able to survive for a day or two without his tablet, laptop and phone? If you ever find such a person, quickly report to the local police because chances are high they might be from another planet. Just kidding. On a serious note, nobody can think of giving a wide berth to electronic gadgets for a few days or weeks. It's equal to impossible.
If you carry a hard-shell suitcase, you will not have to remain worried about fragile things like laptop, pc, tab etc. While loading and unloading the luggage, your gadgets will not be prone to getting broken. Let's assume, if your luggage slips your hand and falls somewhere, there's no chance for your gadgets to be damaged. The hard shell is great enough to protect all fragile stuff.

On the contrary, the soft shell suitcase deprives you of the same benefit. It would be risky to place your electronic gadgets inside a soft-shell suitcase.
Ability to Expand and Swell
What if you suddenly realize that you forgot to put your favorite dress in the suitcase? You know that your suitcase is occupied with all necessary things and you can't replace your favorite dress with any of them. And, you still don't want to zip your suitcase up sans that dress.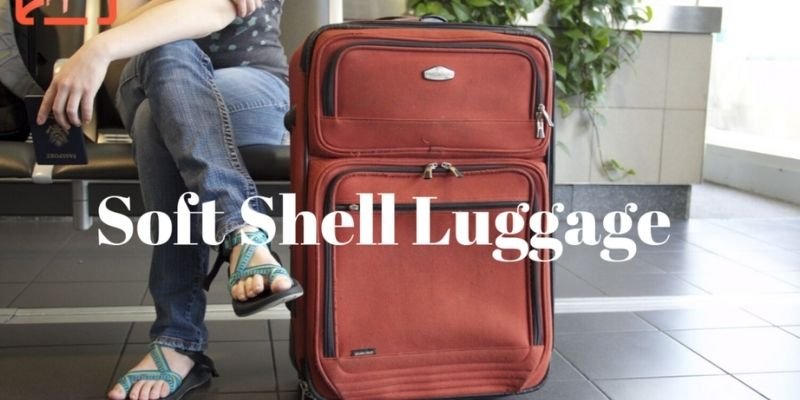 In such a situation, you would make every possible attempt to force it in. A hard-shell suitcase might be of no help in this particular case. There is hardly any scope for expansion in a hard-shell suitcase. The material used to shape a hard-shell suitcase lacks the tendency to grow in terms of space.

Howsoever, a soft-shell case might just meet all your expectations in this specific context. The fabric lapping such a suitcase is rather soft, and tends to bulge out. Therefore, a soft-shell suitcase is comparatively far vacant and welcomes more clothes inside.
Water resistance and rain-proofing
Most of the time we are aware of the weather of the city or country we are travelling to. Nevertheless, rain is unpredictable oftentimes. Imagine, if you come out of the airport and it begins to rain cats and dogs, you along with your luggage are exposed to getting all wet. To avoid a situation like this, a hard-shell suitcase is the best to keep.

Your suitcase might slip into a mud, or rain might befall you, your luggage is least likely to be spoiled. A hard-shell suitcase is extremely water-resistant, and it keeps your stuff undamaged from all possible dangers. Even the suitcase itself would not be dis-featured to any extent.

On the opposite end, a soft-shell suitcase might be relatively futile in that respect. Your luggage can get wet if it accidentally slips into a swimming pool or mud. The fabric of the soft-shell suitcase is likely to absorb water and it will become hard for you to drain the water out.
More pockets and zips!
We are always at sea when it comes to adjusting small stuff because many bags and suitcases do not offer extra pockets for trivial things, and adjusting them in the midst of clothes looks obnoxious. Soft-shell suitcases are legit, because they have these additional pockets.


Having a number of compartments within the suitcase can sort many problems out. We don't have to worry about separating the toiletries, jewelry and watches, books and perfumes, from the main stuff i.e clothes. A soft-shell suitcase takes care of all such needs of a traveler.
A hard-shell suitcase is unable to cater to our needs in this particular context. Hard-shell suitcases often have two additional pockets at max. Unlike soft-shell suitcases, a hard-shell suitcase does not allot this facility.
A soft-shell suitcase is a clear winner when it comes to segregating stuff.
Four-wheel suitcase is all the more comfy!
A four-wheel suitcase is always convenient to handle. You can easily move it back and forth, and you would not even feel how heavy it is. Nobody wants to be accompanied by the stress of carrying a heavy suitcase during the trip because of the luggage. Everyone wants to roam around freely.

A two-wheel suitcase can be a burden to bear because it is pretty inconvenient to toy with. A two-wheel suitcase needs to be held in the hands sometimes which can make you cringe a bit.

All the hard-shell suitcases have four wheels, and on the other hand, it is rare to find soft-shell suitcases with four wheels as most of them embody two wheels. It is hard to find a four-wheel soft-shell suitcase, hence we are left with the option of hard-shell suitcases if we want to handle the luggage with ease.

Hard-shell and soft shell suitcases are durable and pro-visionary in various ways. It is difficult to give a verdict or pass a judgement as to which type of suitcase is more hospitable. We provided you with the necessary information as it's our job, but we leave it to you to decide which of the two suits you best. 
Related article: